First Time Home Purchase Program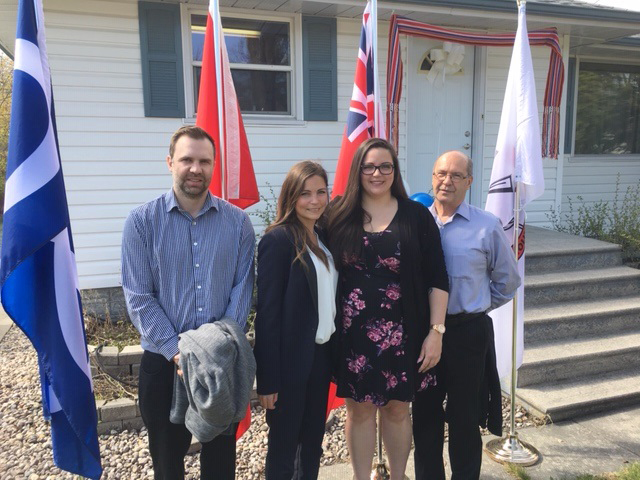 Louis Riel Capital Corporation Staff with Manitoba Metis Federation citizen Dominic Bourgeois standing in front of her new home purchased through the MMF's First Time Home Purchase Program.
This Investment in a Housing program for Metis Citizens in Manitoba will provide funding by way of a grant for the purchase of affordable housing for first time home buyers.
Key Objectives:
Improve access to affordable housing that is safe, sound, suitable, and sustainable for Metis households across Manitoba by:
Providing increased opportunities for Metis citizens in Manitoba, to become home owners where they may not otherwise have this opportunity. The First Time Home Purchase Program (FTHPP) is designed to help Metis citizens overcome the challenge of trying to save sufficient funds that financial institutions require for a down payment to purchase a home which will be their principle residence.
Providing funding for down payments on the purchase of a home to a maximum of 5% of the purchase price up to $15,000 plus purchase closing costs of 1.5% of the purchase price up to a cap of $2,500 to address Metis housing needs in the Province of Manitoba.
The purpose of the MMF FTHPP is to address housing needs, priorities and challenges of Metis people living in rural and urban areas across the Province and to make home ownership a reality for Metis Citizens that have never owned a home before.
Eligibility:
(a) Applicant(s) residing in Manitoba for a minimum of six months;
Must provide proof of Metis citizenship with their application; ie. MMF Metis Citizenship Card or a letter from the MMF CRO department confirming the applicant's Metis Citizenship Card is in the process of being issued.
Must be 18 years of age or older.
Must be able to qualify for and obtain a mortgage from a mainstream or known financial institution. LRCC or the MMF reserves the right to review the terms and conditions of any first place mortgage financing.
Priority will be given to those who are currently residing in social housing, and families escaping situations of abuse or violence.
The forgivable loan amount must be registered on the title in second position at the applicants cost.
The home being purchased must be for the applicant's primary residence.
Applicant must not have ever owned a home.
Applicants must not have ownership in any real estate (including land) with a market value of more than $7,500.
Family gross (pre-tax) income must be below $85,000.
Applicants must have current combined liquid assets of less than $25,000.
(b) Eligible types of homes
Newly constructed homes with new home warranty (deposits on new builds will not be funded and must be completed within a reasonable timeframe at the discretion of MMF FTHPP funder;
Resale market homes, single family, side by side, townhouses, condominiums, multi-unit;
Ready to Move Homes (RTMs) on permanent foundations;
Conversions from non-residential use, that feature a new home warranty;
Mobile homes on owned land, on a permanent foundation anchored to the property and acceptable to a financial institution for mortgage financing purposes;
Homes purchase prices are not to exceed $300,000.00
(c) Ineligible types of homes
Homes located in life-lease communities;
Homes on leased or rented land;
Mobile Homes in trailer parks;
Please note that the program cannot retroactively fund any home purchase contract that has already been entered into. We encourage you to reach out to LRCC before making an offer on any home.
MMF First Time Home Purchase Program - Guidelines
MMF First Time Home Purchase Program - Application